Making International Payments Easier, Faster and More Secure with SWIFT GPI
25 January 2023 | 1:56PM GMT
In 2016, companies could not track real-time payment processes when sending to or receiving money from a counterparty in other countries. However, six years later, with the launch of Swift's Global Payments Innovation (GPI), this gap was filled. 
SWIFT GPI is now the new standard in global payments, allowing financial institutions and corporations to securely transfer funds between accounts in any part of the world, with full visibility into where a payment is at any given moment, all enabled through user-friendly digital tools.
Since its inception in 2017, gpi has seen rapid adoption for cross-border payments. At the same time, strong growth in its use for domestic payments and for increasingly lower value transactions proves the service is well-matched to the needs of the future.
Four specific goals were established for the gpi initiative:
Increasing payment speed with communication improvements and higher standards for banks to ensure quicker payments through the SWIFT gpi network.
Providing end-to-end tracking with a Unique End-to-End Transaction Reference (UETR), which can be used to check the location of funds in real-time.
Improving transparency of fees and charges with full visibility on processing fees and times to enable better decision-making and bank routing.
Maintaining consistent data records with gpi's guarantee that remittance data is unaltered during the payment journey, allowing comfortable reconciliation of payments with invoices or orders.
Today, SWIFT gpi is being used by over 4,200 financial institutions worldwide, including Ceviant. It supports more than 150 currencies across more than 200 countries, with 44% of payments being credited within five minutes and nearly 100% being credited within 24 hours. 
The SWIFT gpi initiative is revolutionizing the way cross-border payments are made, delivering a faster, more fluid, transparent, and secure customer payment experience. At Ceviant, we are committed to helping our customers make the most of this technology and have implemented GPI to offer them specific monitoring and reporting solutions. 
We are providing our corporate customers with a secure, user-friendly and cost-free GPI Tracker which allows them to share a link with their beneficiaries that enables them to track payments in real-time without needing authentication. This will allow beneficiaries to keep track of payments at any time while still protecting sensitive data.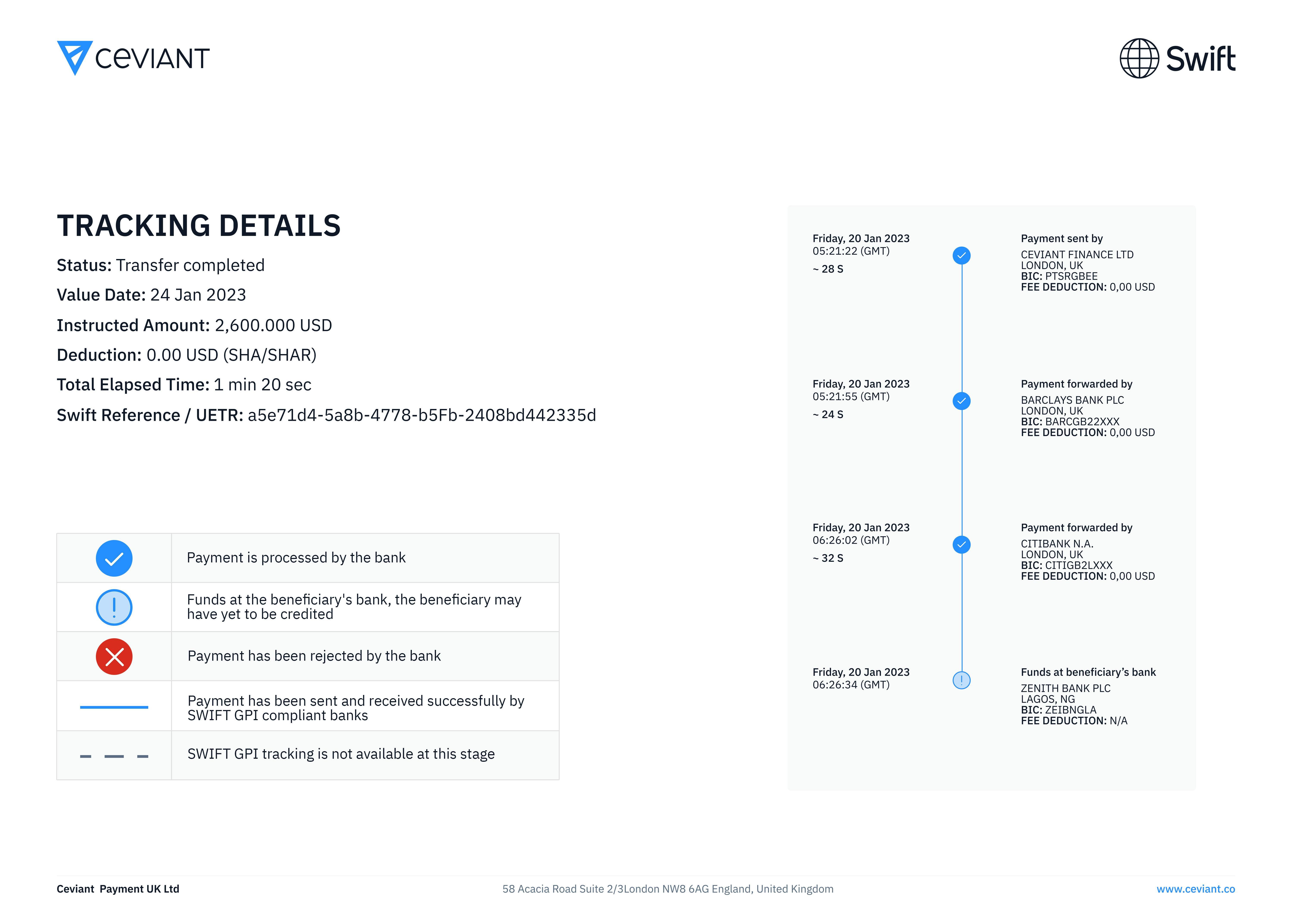 The gpi tracker eliminates the need for disorganized screenshots or unreadable notices by enabling real-time visibility on the progress of payments. This ease of access can help speed up processes and quickly resolve transactions. Moreover, it will become the go-to standard for treasurers looking to improve their partners' international payment experience and transaction fluidity.
Our corporate customers benefit from numerous benefits when they use Ceviant's Swift GPI solution, including faster payments (75% credited within 6 hours), end-to-end tracking, and fee and FX transparency. These three advantages, along with others, enable us to provide an excellent payment experience, with our customers reaping the benefits of a swift, secure, and transparent international payment process.
SWIFT gpi is not only enhancing the customer experience and operational efficiency, but is also in line with Ceviant's digital solutions goals and regulators' objectives of reducing friction in international payments, as well as increasing transparency.
At Ceviant, we understand the value of time for our corporate customers and prioritize their need for near instantaneous payment transfers for their customers. Our Swift Global Payments Innovation (GPI) solution eliminates cross-border complexities, allowing for faster payments and more efficient cash flow management and budgeting. With our user-friendly, secure, cost-free GPI Tracker, businesses can easily keep track of their payments in real-time, while still protecting sensitive data. Get started at ceviant.co.